Best BRITs Moments Eva!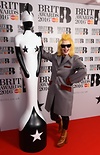 Wednesday marks the 36th anniversary of The BRIT Awards. And with homegrown talent Adele and Coldplay set to perform alongside Justin Bieber and Rihanna (still tbc after her GRAMMYs no-show), the night is bound to throw up a few surprises. Here's a run down of some of the most memorable moments from the last 20 years...
Cape Gate - 2015
Last year's BRIT Awards was one of the most dramatic yet. Who expected a veteran like Madonna to get her cape caught on a dancer and dragged down a flight of stairs? The nation was literally left open mouthed. Madge, we salute you.

Adele gets cut off - 2012
Ahh, the moment Adele gave the middle finger when James Corden cut her off mid-acceptance speech for 'Album of the Year'? You go, Glen Coco. It's a good job they've made up since and provided us with one of the most incredible Carpool Karaokes to date.
Kanye's gold diggers - 2006
10 years ago, Kanye, his oversized sunglasses and hareem of gold women caused a stir as he picked up the award for 'Best International Male', performing Touch The Sky / Gold Digger on stage. Oh, the days before Kim K...

Justin gets cheeky - 2003
In his post-Britney, Cry Me A River Days, JT liked to think he was a bit of a lad. He certainly asserted his boy-about-town status when he squeezed Kylie's a$$ back in '03. I don't think Ms Minogue was overly impressed but God loves a trier.
Spice up your life - 1997
THAT Union Jack dress made its debut almost 20 years ago. Cue every tourist shop in the UK selling out of British flags as we tried to replicate the look for our school dance show. And where to even start on Mel B's leopard print catsuit (FYI I'd still wear this now).

Tune in to The BRITs Weds 24th February on ITV to see what happens this year...