Fashion Moments That Made 2016
Another year, another 365 days of fashion good and bad. Here's six moments that made us 'OMG' this 2016.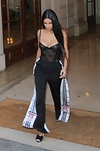 1. Kim K
Love her or loathe her, she isn't scared of making a statement or trying something new so for that Kimmy K, we salute you. Because what's the fun in boring?

2. Bella Hadid

The year of the thigh-high split, and I mean high. It does help when you're Bella Hadid but boy did she do the red dance girl emoji some justice.

3. Gigi Hadid
Speaking of the Hadids, it's safe to say Gigi is a girl we're always stalking. And she certainly slayed at the American Music Awards.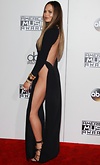 4. Chrissy Teigen

John Legend's beaut wife bared all on the red carpet back flaunting that fab figure of hers. Goals is all I'm gonna say...

5. Kylie Jenner
Another Jenner, this time when Kylie pulled out alllll of the stops this Halloween to recreate Christina Aguilera from her 'Dirty' video. Safe to say, she nailed it.

6. Beyonce
Beyonce's dress caused a bit of a stir on the red carpet. Some likened it to skin whilst others couldn't get enough. We think she's fire everyday, just saying...