HQ How 2: The Double Wing
From the Jenner lip to the Cara brow, we're having an A list beauty moment, seriously how did we do anything before Instagram set the standards for all #LIFEGOALS.
My latest # obsession is this eye widening make up trick, started by queen Marilyn Monroe back in the day and most recently perfected by Gigi. The double white lined flick is your secret to insanely dramatic peepers and it's pretty easy to achieve. I say this bc I managed to do it (two attempts required) without having a melt down or stabbing myself in the eye.
The Inspo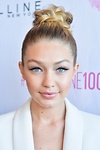 The Kit