Jack Doheny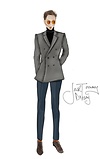 With an A-List fandom from Kim K to Iggy and an Insta following to be incredibly jel of, Jack Doheny is surely one of the coolest illustrators around. He's all about drawing powerful, fashionable women (currently trying to recruit him as our new BFF). Find out more about the guy behind the signature lashes...

How did you get into illustration?
I was inspired by other illustrators' success through using Instagram as their platform, so I decided to try it out. It was re-posts from the likes of Khloe and Kim Kardashian, Iggy Azalea and Jourdan Dunn that got me noticed.
What did you study at uni?
I studied art & design in college and my degree is in spatial and interior design, I was very confused it wasn't the right course for me, haha!
What medium do you like to work with the most?
More recently I use my IPad for my illustrations and I love it as I can layer and mix different textures for bold striking effects. By hand I love watercolour.
If any celeb came to you and asked you to draw them, who would you want it to be?
In terms of the celeb actually approaching me I would DIE for Beyonce. However in terms of illustration I'd love a challenge like Lady GaGa or Madonna as I'd never know what to expect and that would excite me!
What is the most rewarding thing about your job?
I absolutely love when I'm near the end of the illustration and it's that one stroke of the lash or pout of the lips and it's instantly recognisable to the client. Drawing is also the only time I truly get peace and is my escape from the world.
What are some of the biggest challenges you've faced?
The biggest challenge I have faced is getting to where I am today and choosing my career path. I knew I could draw but I didn't know how I was going to use my talent to get me to where I wanted to be.
What's the inspo behind your signature lashes?
Going into illustration I didn't intend on the lashes, it was when I was playing around with different ideas that I came up with the bold line as the lash. It was more of an experiment to see what happened and people began to love it and identify them with me. I think they help to set me apart, I like to call them the cockroach lash.
Top tips on landing your dream job?
This is actually a funny one for me to answer as I am still on the road to success myself and have goals I want to reach. However, what I would say is persistence and patience is everything. Once you have success keep producing and promoting yourself as nothing is guaranteed. Just do what you love and it will show, you will get noticed.