How To Wear Sneakers Everywhere
It's obviously a bonus that our favorite shoe trend is so comfortable you could jog all the way to work in it (no thanks) and finding a pair that fits into your wardrobe is suprizingly easy. But, the best thing about sneakers is that you can really, honestly, wear them absolutely everywhere.

If you're heading to a venue that has a 'smart shoes only' policy and no entry in sneaker, find a new fave bar because, hello? It's fashion. In fact, it's now officially acceptable to wear trainers in the office. Yes, the workwear sneaker is a real thing and we're all sporting it!
Gone are the days of getting dressed up for the airport and snaps of celebs strutting off a 12 hour flight in stilettos. Comfort is everything when you're travelling, keep it chic in all black and sneakers

Kylie Jenner

There's nothing easier than styling a black tee with smart trousers for the office, swap your strappy heels for sneakers with this look. Once you go flat, you'll never go back.

Gigi Hadid

Save space in your holiday suitcase, ditch all your sandals and feel the sand beneath your sneakers
Bella Thorne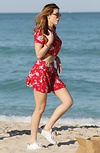 Forget your wellies, the 2016 festival shoe is (suprise suprise) sneakers!
Hailey Clauson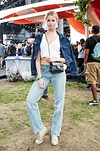 The best accessory to pair with your LBD for a night out is of course, your LBSs. Your feet will be thankful
Hailey Baldwin