Our Fave Fashion BFFs
What would we do without our besties? They're there to laugh at your terrible jokes, always advise you whether or not you should be wearing that… AND when they open you up to a second wardrobe and come with an epic dress sense, it goes without saying that they really are your soul mate.

The same goes for celebs… with every A-list face comes an A-list chum and with it - double the fun. We have rounded up our favorite fashion BFFs (old and new) because if there's anything that's going to make you look better... it's a chic counterpart to pose with.
Kate Moss & Naomi Campbell
A pair-up that have been inseparable ever since the get-go... and when I say get-go, I mean since before they reigned the decade as the biggest supermodels of the 90s. We could all learn a trick or two from Kate & Naomi and their triple decade of friendship. No one can pull off a BFF throwback quite like these two.
Victoria Beckham & Katie Holmes
Are they friends? Aren't they friends? This pair may not have been snapped side by side in a while, but that doesn't stop us lusting after their sleek style. Be honest: you'd love to go shopping with these fashionistas... who wouldn't want a a stylist and best friend in one?!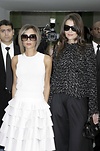 Taylor Swift & Karlie Kloss
They are the definition of #bestfriendgoals. With that much fun, we can't help but feel an overwhelming amount of FOMO whenever they're photographed together; the duo we want to make into a trio. Did we mention how much we love the cute AF coordinated looks?! We hear you Tay - you never go out of style!

Drew Barrymore & Cameron Diaz
Ok, so strictly speaking they aren't in fashion, but we can't help adore Drew and Cameron's matchy twinster looks. Two became one ever since our favorite girl-power film Charlie's Angels was brought to our screen, and with it their kick-ass style.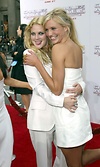 Nicole Richie & Paris Hilton
We'd all be lying if we said we didn't secretly fall in love with them and their reality TV show The Simple Life (just me?). It may have been 10 years ago, but this divaish duo were never short of ways to rip up the rule book. They pretty much inspired our whole wardrobe growing up!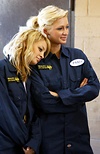 Courtney Cox & Jennifer Aniston
They became FRIENDS (literally) on and off screen when they were paired up for our all time favorite sitcom and rocked the 90s style like no other. Yes they inspired our baseball sweaters and pretty much all of our denim looks, but mostly they gave us serious squad envy; we couldn't be happier that the pair are still besties.

Gwyneth Paltrow & Beyonce
An unlikely duo, yet one of the most powerful known to womankind. Whilst we all want to bag Queen Bey as a BFF, we can't help but admire (stalk) the solidarity between these two... not to mention there hand-in-hand jaw-dropping dress sense.

Cara Delevingne & Kendall Jenner
Friends that model together - stick together... or so it seems for as-cool-as-they-come besties Cara and Kendall. Whether it's magazine covers or holidays, these two supermodels are definitiely inseparable (and way fashionable).