Radical Hair and Beauty Trends to Try in 2017
By Darcey Taylor
2016? Yep, so over it. It's all about 2017 now honeys! Fresh starts, new vibes, and inevitably new trends to try out, both in fashion and beauty- exciting times for all us style enthusiasts. So what do I see in my beauty crystal ball for 2017? You're going to love it…


The Bleached Brow
The fashion week catwalks across the globe forecast not only fashion trends for the upcoming year but also establish trends for beauty. Amongst the catwalks this year a noticeable bare, or even bleached brow revolution is taking place in the world of beauty, even to the point of brows being severely lightened *GASPS*. It looks a bit odd at first glance but there is something really edgy and cool about this particular style of brow that could definitely take any look to the next level.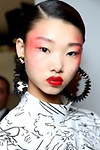 Colour Pop
Bye- bye smoky eye! Yes, 2017 is the time to move away from our beloved fail-safe of the smoky eye and nude lip and a time to try something a little more out- there. A bright shade of colour on the eye or on the lip (or even together in combination if you're feeling extra sassy) is the statement beauty look for 2017. Pinks, reds, and yellows (especially if you have darker skin), look particularly scrumptious and will certainly take your look from every day, to sashay hon-ay!


Hair- ssories
Adding decorative accessories to your hair is something you are really going to want to get to grips with for the upcoming year (pun one hundred percent intended). An ornamental clip can take a casual down-do from average and every day, to chic and styled. And adding little hoops to loose French plaits is sure to help your style defeat that mid-season slump at the start of 2017.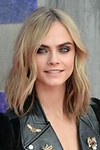 Short- cut to Success
Ladies, there is nothing more liberating than ditching your extensions, those pricey weaves, and saying hasta la vista to those split, dead ends. Getting a short-cut hairstyle in 2017 is a sure-fire way to remain fashion forward. Short hair will add an alternative yet sophisticated vibe to anyone's look, so it is a great way to make a change if you're tired of your current style and want to join the likes of Cara Delevingne and Khloé Kardashian in hair liberation!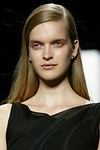 The Comb Over
Move to the side slicked down hair…quite literally! The side parting is making a return in its most extreme form yet. Sleek, slicked down, deep side partings are the current focus of high-fashion trend; essentially female comb-overs. They are probably not going to appeal to everyone, but rather like a Bounty in a box of your left over celebrations, you will either hate them or love them, and if you have never tried them, it's definitely worth giving them ago.